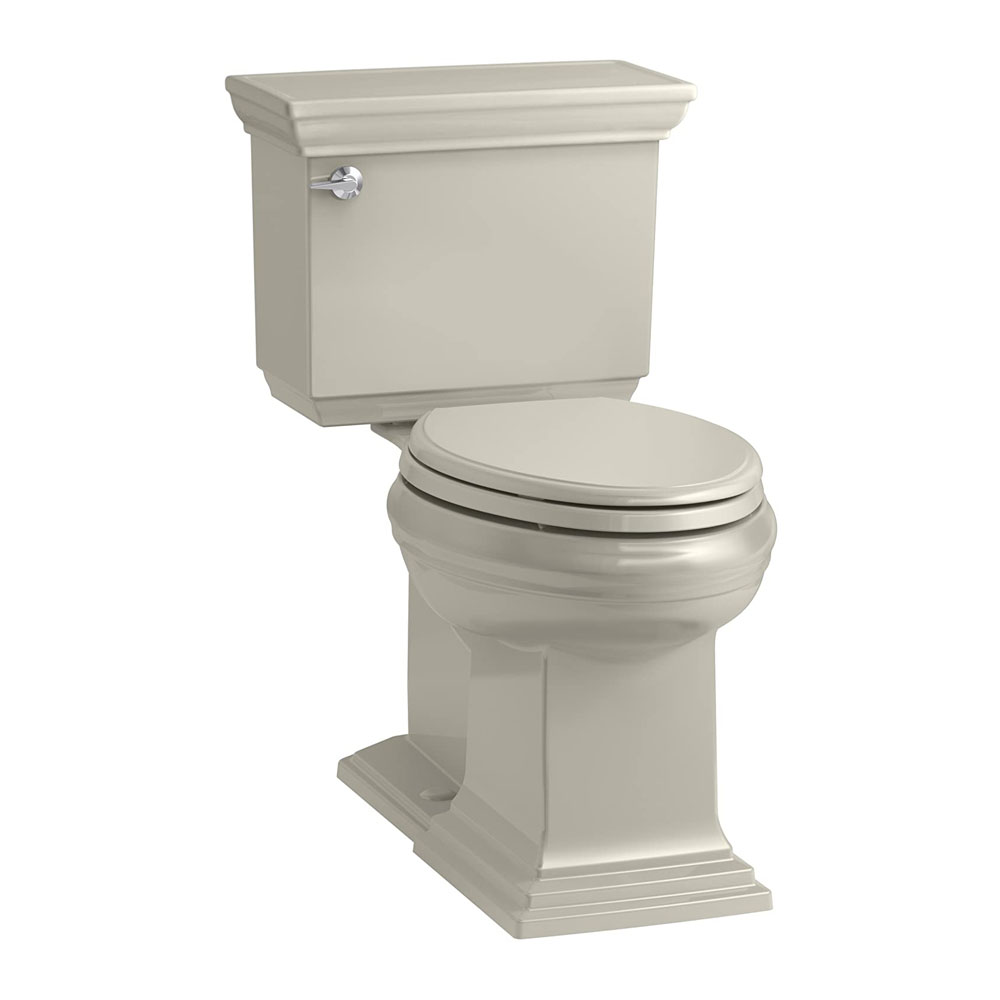 KOHLER K-6669-G9 Memoirs Sandbar
MPN:
885612393869
BRAND: KOHLER COMPANY (CHINA)
| Product SKU: K-6669-G9
Description
KOHLER K-6669-G9 Memoirs Sandbar
Featuring the elegant architectural look of the Memoirs collection with Stately design, this two-piece toilet combines water-saving flush performance with traditional style. A high-efficiency 1.28-gallon flush offers up to 16,500 gallons of water savings per year, compared to a 3.5-gallon toilet, without compromising performance. The elongated bowl is positioned at a convenient height for comfort and ease of use. A concealed trapway simplifies cleaning.
Features
Two-piece toilet.
Elongated bowl offers added room and comfort.
Comfort Height® feature offers chair-height seating that makes sitting down and standing up easier for most adults.
1.28 gallons per flush (gpf).
Concealed trapway and Clean Caps™ facilitate easier cleaning and enhanced design.
Standard left-hand Polished Chrome trip lever included.
Combination consists of the K-5626 bowl and the K-4434 tank.
Coordinates with other products in the Memoirs collection.
Technology
Single-flush gravity uses the force of gravity and a precision-engineered tank, bowl, and trapway to create a strong siphon during flushing.
AquaPiston canister allows water to flow into the bowl from all sides (360 degrees), increasing the power and effectiveness of the flush.
Flush valve's 3:2 ratio harnesses the natural force of gravity and optimizes flush performance.
Durable canister design has 90% less exposed seal material than a 3-inch flapper, for leak-free performance.
Light-touch canister flush requires a lower actuation force than a flapper.
Installation
Standard 12-inch rough-in.
Three-bolt installation.
Seat and supply line not included.
Water Conservation & Rebates
WaterSense® toilets meet strict EPA flushing guidelines, including using at least 20 percent less water than 1.6-gallon toilets.
Eligible for consumer rebates in some municipalities.
Kohler Memoirs K-6669-G9 Sandbar
Prop. 65 Warning: This product contains one or more chemicals known to the state of California to cause cancer, birth defects, or other reproductive harm.
Herbicides and Pesticides are only available to buy online pick up in store in the State of California