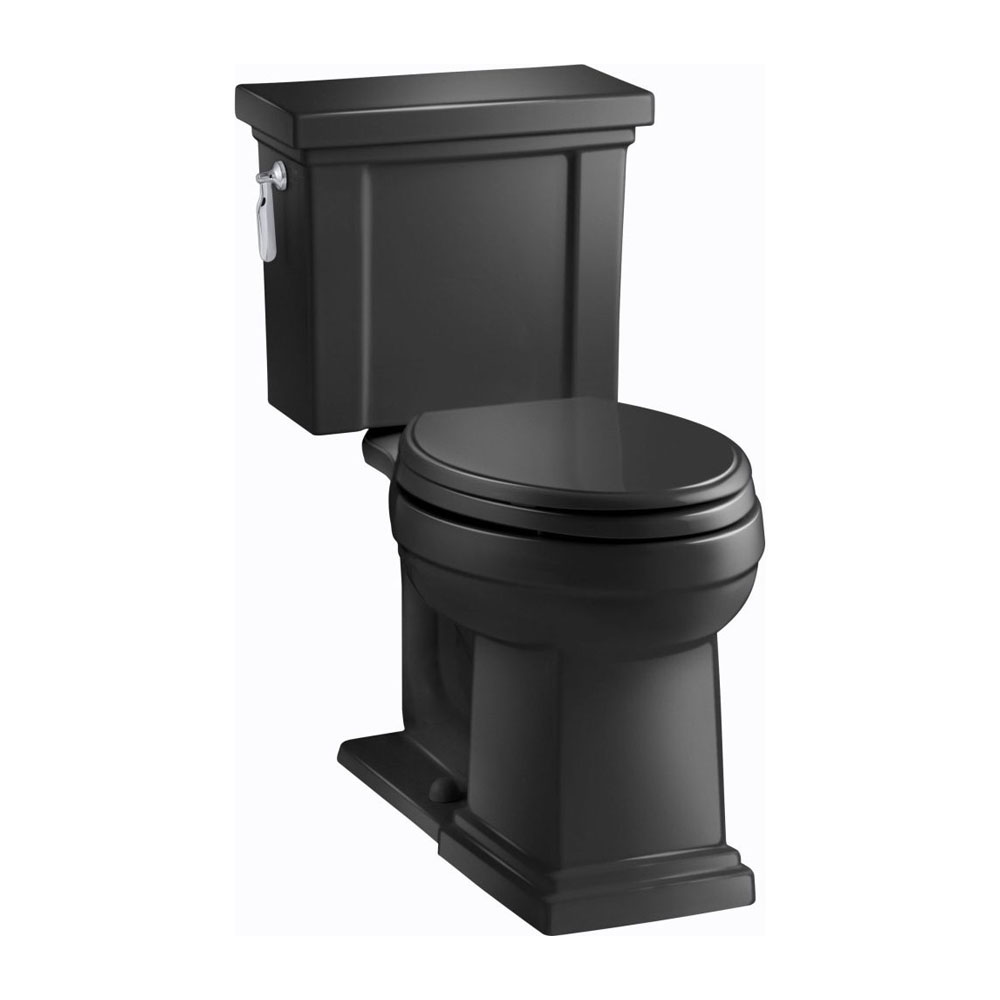 KOHLER K-3950-7 Tresham Comfort Height Two-piece Elongated 1
MPN:
885612027085
BRAND: KOHLER COMPANY (CHINA)
| Product SKU: K-3950-7
Description
KOHLER K-3950-7 Tresham Comfort Height Two-piece Elongated 1
Kohler Tresham Comfort Height Two-piece Elongated 1.28 gpf Toilet Black
SKU: K-3950-7

The elegant simplicity of Shaker-style furniture inspires the edgy, neo-traditional design of the Tresham Suite. The Tresham Comfort-Height two-piece elongated toilet is accented by an elegant trim that recalls architectural molding and offers an eclectic twist on classic Americana traditions. Complements the Tresham Suite as well as a variety of styles from classic to modern.

Comfort Height - With a seat height comparable to that of a standard chair, Comfort Height toilets make sitting down and standing up easier for people of all ages
12" (30.5 cm) rough-in
Class Five - provides tremendous bulk waste flushing performance and best-in-class bowl cleanliness
Three pre-installed tank bolts save installation time
Canister flush valve provides smooth flushing actuation with consistent water usage, flush after flush
1.28 gpf high-efficiency toilets provide significant water savings of up to 16,500 gallons per year versus an old 3.5-gallon toilet without sacrificing performance
Meets strict flushing performance guidelines established by the EPA's (Environmental Protection Agency) WaterSense program
Qualifies as a HET (High-efficiency toilet) - consumer rebates are available in certain municipalities
Polished chrome trip lever, less seat and supply
Specified model meets or exceeds the following Codes: ADA - ICC/ANSI A117.1 - CSA B651 - OBC - ASME A112.19.2/CSA B45.1 - EPA WaterSense
Two-piece toilet.
Elongated bowl offers added room and comfort.
Comfort Height® feature offers chair-height seating that makes sitting down and standing up easier for most adults.
1.28 gallons per flush (gpf).
2-1/8-inch glazed trapway.
Standard left-hand Polished Chrome trip lever included.
Combination consists of the K-4899 tank and the K-4799 bowl.
Coordinates with other products in the Tresham collection.
Water Conservation & Rebates
WaterSense® toilets meet strict EPA flushing guidelines, including using at least 20 percent less water than 1.6-gallon toilets.
Eligible for consumer rebates in some municipalities.
Prop. 65 Warning: This product contains one or more chemicals known to the state of California to cause cancer, birth defects, or other reproductive harm.
Herbicides and Pesticides are only available to buy online pick up in store in the State of California